WREXHAM FC – Ben Wilson – Personal Trainer & Online Coach
I am a life long Wrexham fan from Llangollen.  I went to my first Wrexham game in 1995, when we beat Ipswich 2-1 in the FA Cup :). I am based in London but having been coaching people online since 2007.
I am one of the most experienced personal trainers in the UK & have written three books on fitness.
FREE STUFF – Download Your Body Transformation Blueprint
This guide gives a road map to get started with improving  your Health & Fitness in 2023. Download it using the email form below –
FREE STUFF – Advice & Motivation – Follow me on Social Media
Find me on your favourite social media channel as given below –
Social Media              – benwilsonuk
 ************
READ MY BOOK – The Grand Unified Theory of Weight Loss (Print/E-book or Audio)
My latest book details exactly what you need to do to get in shape regardless of your background and however big your goals may be. It goes way beyond just knowing what to eat and how to exercise, as it looks into how to establish new habits, handle stress, incorporate your social lfie and much more.
It is available in bookshops and on amazon here>>>
COACHING & SUPPORT – Body Transformation ZERO & Member Area
If you are really commited to making a change this yearYou do not need any prior success or experience around health & fitness to work with me and I cater for all fitness levels and experience.
The ultimate body transformation course that implements all of the concepts from my book. It has 11 modules with various tasks to complete which will give you all the skills and motivation to change your body. It is designed to help people who have always struggled with their health & fitness and will help you regardless of your past struggles. This can be done on at your own pace. There is a comprehensive member's area with follow along home workouts regardless of your fitness levels. I am also there to provide support where needed.
Find out more information about Body Transformation Zero here>>>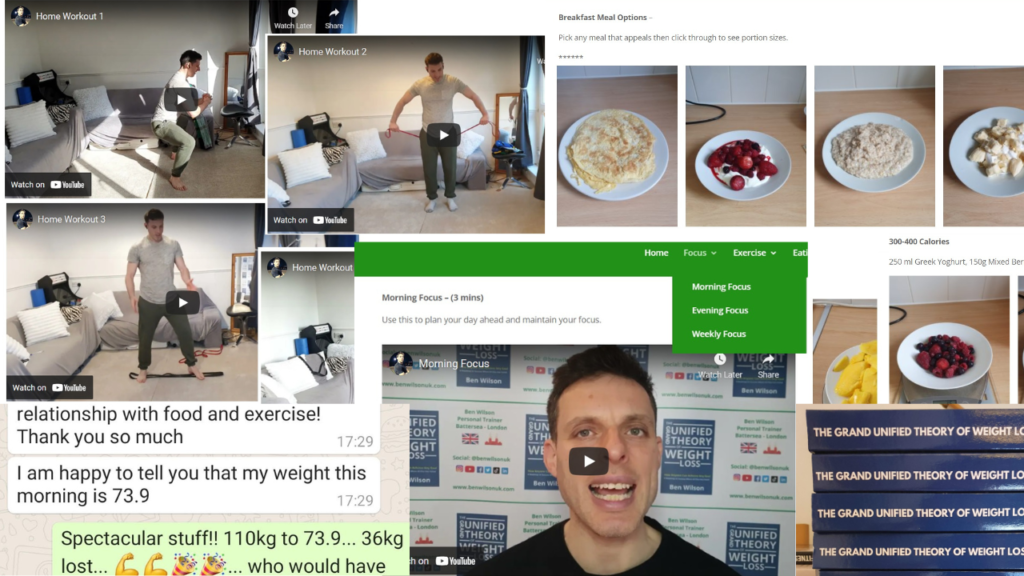 COACHING & SUPPORT – Direct Coaching
I will support and motivate you to achieve your goals through addressing your nutrition, exercise and long term habits. I will create for you a personalized plan to follow based on your aims and current skills. We will then be in contact daily through whatsapp and weekly check-in's to implement and adapt the plan until you have achieved your goals. You will have access to my extensive exercise library and members area as well as the Body Transformation Zero programme under my guidance.
Find out more information about the Performance Coaching here>>> 
CONTACT ME –
The best way to answer any questions is to contact me as detailed below:
– Add Me on Whatsapp here>>>
– Call or Text me – 07915 397 703 >>>
– E-mail: ben@benwilsonuk.com
(Note – My replies often go missing due to Spam filters, easier to chat via whatsapp)
– Social Media: Benwilsonuk
Instagram>>       You Tube>>         Facebook>>          Twitter>>        Tik Tok>>     LinkedIn>>
***********
Watch my various TV appearance and media spot lights –