THE GRAND UNIFIED THEORY OF WEIGHT LOSS – PODCAST INFORMATION 
This book presents a model for weight loss and body transformations to explain what it takes for any one person to achieve any specific goal. The approach incorporates many different influences ranging from psychology to physiology.
This includes different aspects of motivation, the effects of stress, the habit formation/re-modelling process, dopamine related pathways, the person's environment and the influences of other people. It also accounts for the individual person's needs when designing exercise and nutrition programmes. 
KEY POINTS FOR PODCAST DISCUSSION
The book is very consumer friendly with a fresh yet understandable approach to body transformations. Due to the heavy emphasis on the psychological influence of getting results it makes great podcast content as we are able to discuss important topics which are not so commonly covered within the fitness, health and self development arenas, including – 
– Mind set – Why psychology beats physiology on most advice for the average person.
– Neural Systems – How to train these to influence habit formation.
– The 7 Levels of Body shape – Why Bodybuilding advice harms most people's efforts.
– Stress & Emotions – Why you must address this if you are demotivated.
– Motivation's 4 Areas – Emotion, Environment, Priority and state.
– Your Identity – How to create change in your identity to supercharge results.
– Individuality – Why your plan may not work for the next person.
– Body Positivity – How and why you must solve the body positivity dilemma.
– Fine Line Eating – Navigating between freedom, rigidity, results and a healthy relationship with food.
For all of these topics and more the content can be tailored to your audience and programmes you offer.
**************************************************************************
ABOUT ME – BEN WILSON
I have been a personal trainer since 2002. After doing a degree in Chemistry (Cardiff) I did a few jobs that I hated in an office setting and a very dangerous chemical plant (see here>>). After this, I trained to become a personal trainer and never looked back.
Books
I have written three books, Rugby Fitness Training – A Twleve Month Conditioning Programme, Change Your Thinking – Change Your Shape and The Grand Unified Theory of Weight Loss.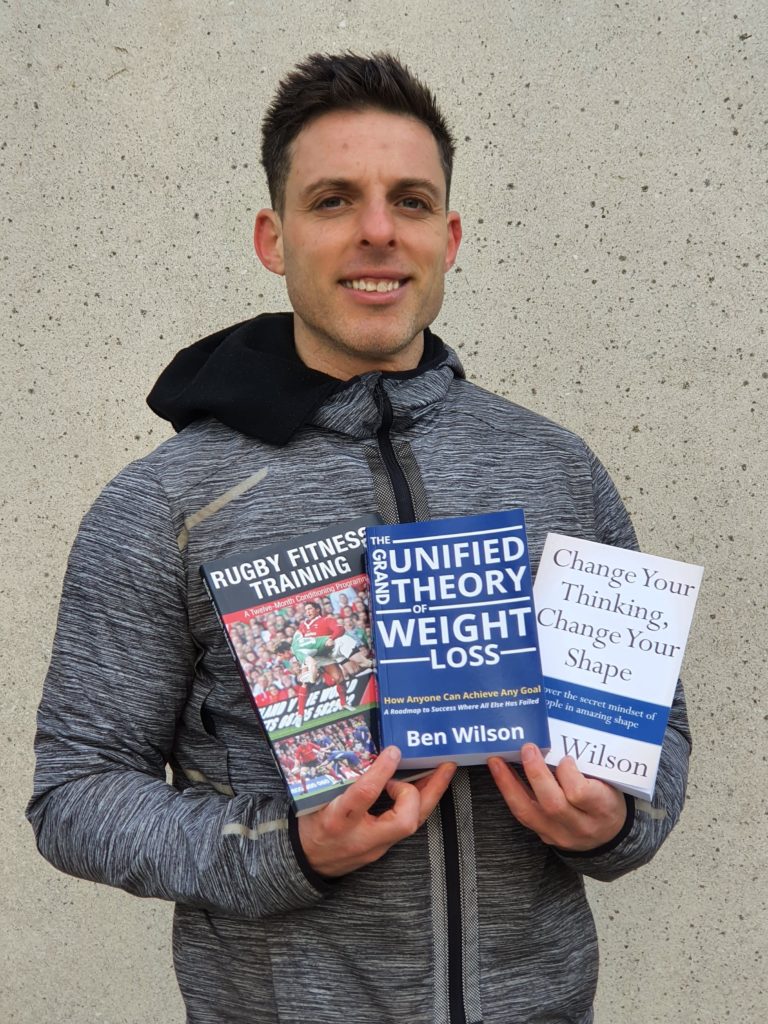 My TV Appearances
I have been on various TV shows over the years, including the BBC Breakfast show, Channel 5 News and CNN. Some highlights of these can be seen below. I also worked on the show "To Fat and Back" but was edited out of the final cut 🙁
My Sports Background
I spent most of my time competing in Athletics (400m – 53.4 Pb) and playing Rugby (various clubs). For the last few years I focused mainly on Fitness Model and Bodybuilding Physique shows. The photos below are from shows in 2014, 2019 and 2021.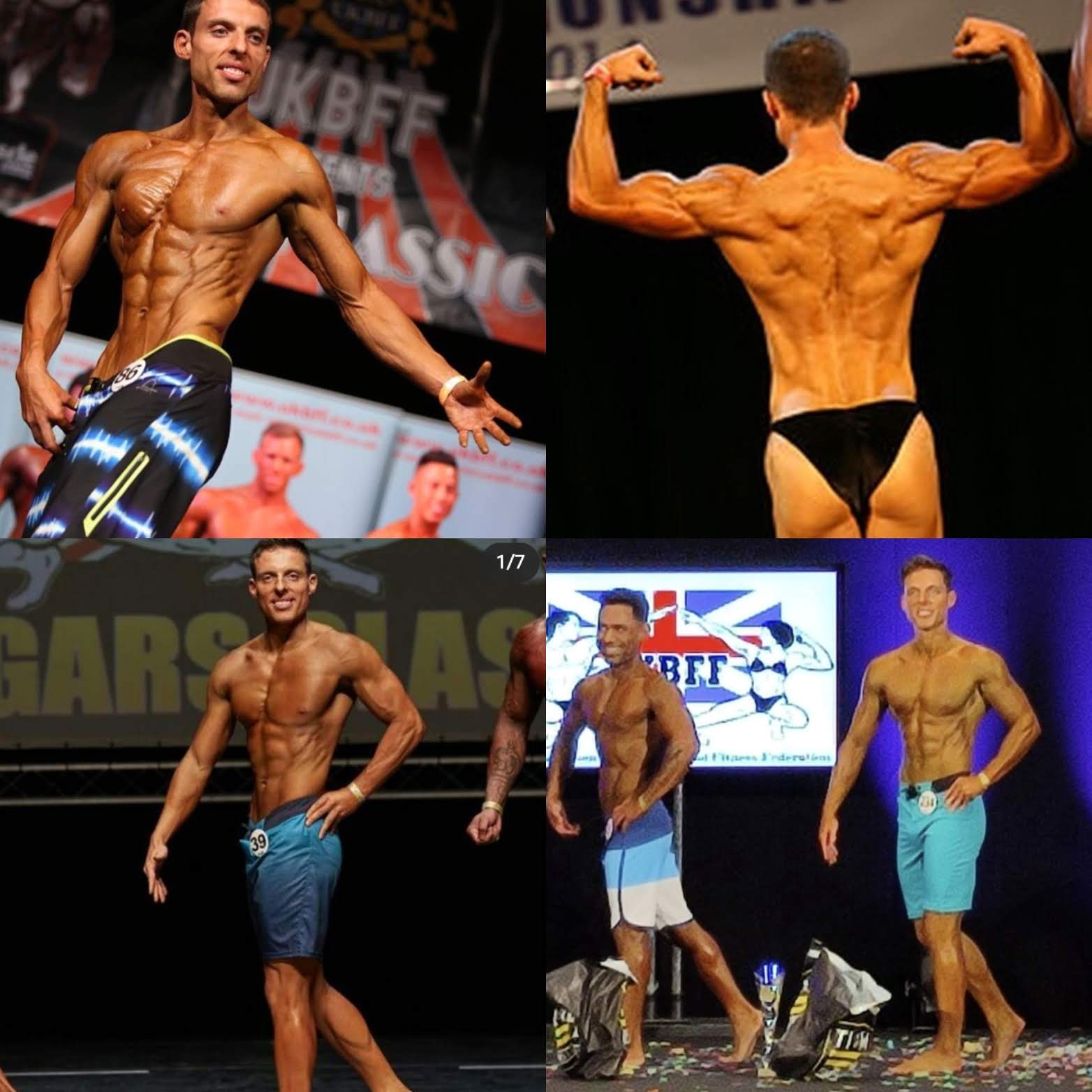 Studying & Experience
After studying a personal training and sports massage diploma to enter the industry I have continued to increase my knowledge across exercise, nutrition and behaviour change techniques. I was the first trainer in the UK to combine exercise and nutrition to Emotional Freedom Technique (EFT). I have worked with stroke rehabilitaion and I was the fitness coach of the Swedish Rugby team for a year.
I am always learning in some avenue and then look to solidify this knowledge by working with people from all sorts of different backgrounds and specific challenges / issues. A sum up of this can be found below.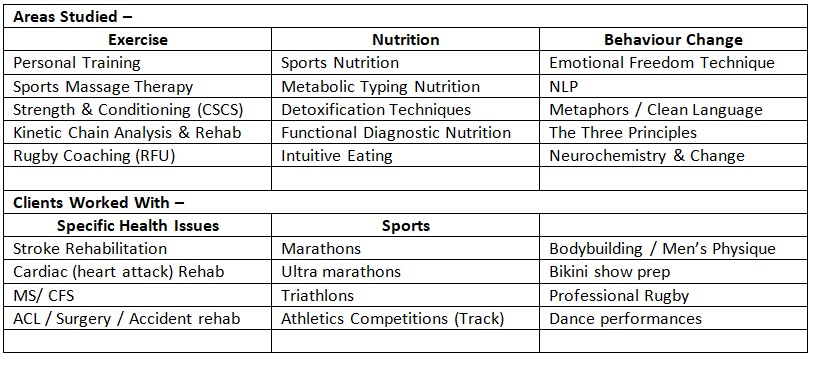 Travel
I have travelled to over 50 countries and lived in both Australia and Brazil. I am originallt from Llangollen, in North Wales but have lived in London for most of my adult life.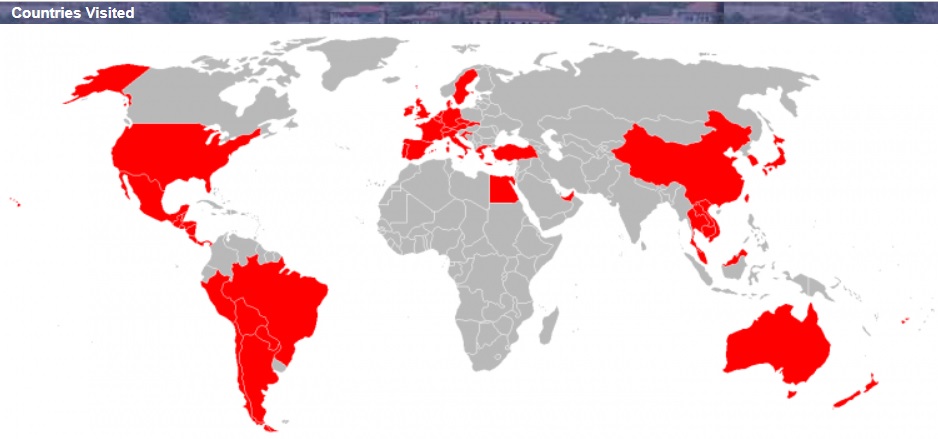 Samba
After I came back from living in Brazil I got a dog and started to perform in samba shows to keep that Brazilian connection. I was a member of London School of Samba and we did gigs at weddings, parades, parties and for TV.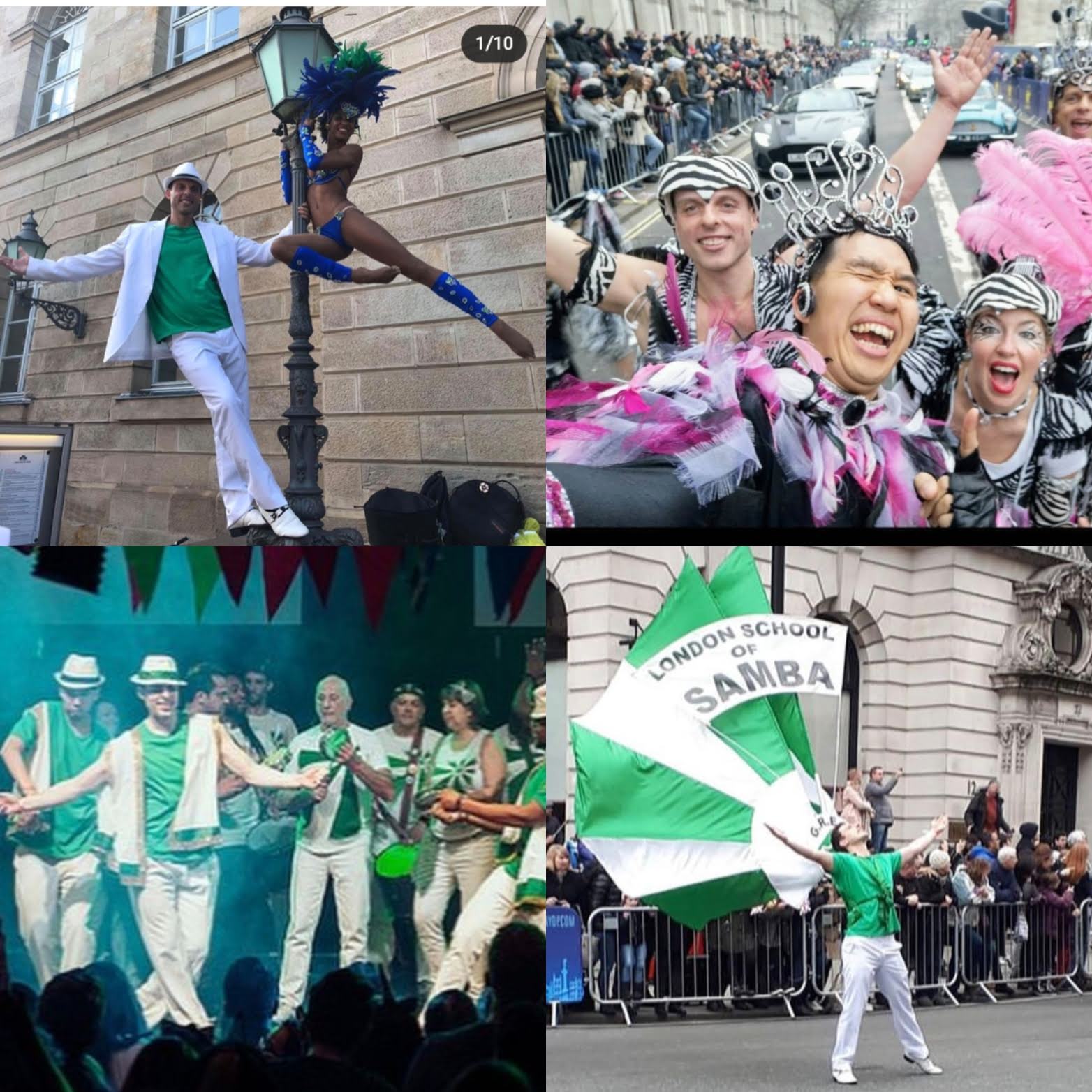 **************************************************************************
BOOK DETAILS – 
The title of the book is inspired from physics, where the 'Grand Unified Theory' seeks to bring together the different aspects around electromagnetism into a unified approach. This book and theorem looks to bring together the many strategies, influences and elements around weight loss and body transformations into one single, unified approach. l
The Grand Unified Theory of Weight Loss
Paperback :

 

443 pages

Kindle / Ebook – Available on Amazon, Ibooks and other major outlets.

Audio book – Available on Audible and other major outlets.

ISBN-10 :

 

1838325700

ISBN-13 :

 

978-1838325701
Amazon Page – UK (.co.uk) – USA (.com) – Canada – Australia – India – Germany – France – Spain – Italy – Brazil – Mexico 
Other Ebook Publishers – KOBO –  Barnes & Noble  – Apple Books UK (USA – Canada – Australia )
Audiobook – Audible (UK) >>>  (Directly on Amazon Audiobook>>>) – KOBO Audio – SPOTIFY>> 
Book Overview –
The book has four sections, in the first section; "Before The Transformation – What They Forgot To Teach You or Simply Lied to You About", I outline some of the key fundamentals that need to be understood to maximize the chances of being successful. This is often as much about unlearning incorrect knowledge as it is about picking up new information.
The second section; "The Mechanics of Physical Change", details everything about what to do to change the body. This includes how to lose small to large amounts of body fat and how to build muscle up to that of a bodybuilder. It covers how to develop fitness, improve health and also how to achieve emotional well-being goals so the person feels good about themselves and their behaviours. It also details how to handle and achieve more than one of these areas at the same time.
Section three; "The Grand Unified Theory of Body Transformations", bridges the gap between knowing what to do, as outlined in the previous section and actually being able to do it in the real world.  It includes various areas such as motivation, training your neural connections, accounting for emotions & stress, looking at different types of plans, targeting specific actions during periods of low motivation as well as seeing how this whole goal area fits into your personality and identity. 
The final section; "Your Unified Transformation Plan", outlines various plans that can be followed to implement the approach outlined in the book. There is a plan to follow if you are already working with a coach and/or following another nutrition/exercise plan. This allows you to combine the psychology elements of the theory with your current coach/plan to increase the speed of your results.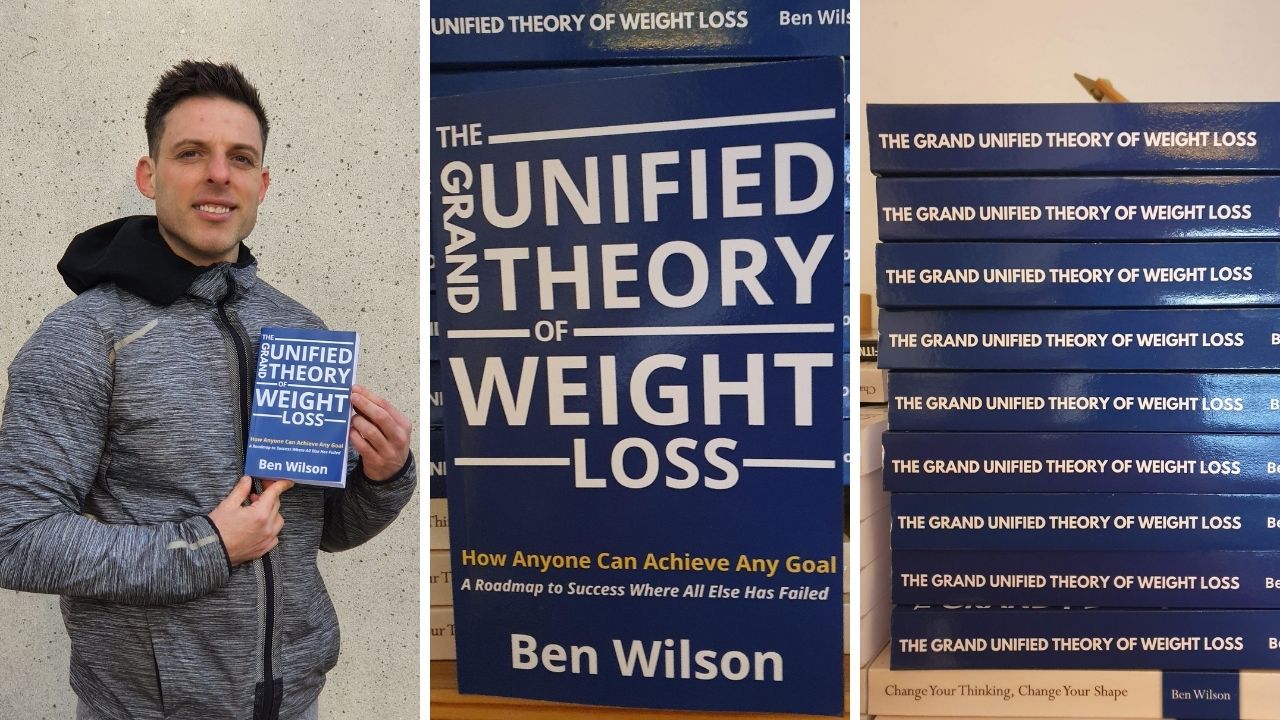 Contact Details – Ben Wilson
– Add me on Whatsapp here>> (Best method)
– Text/Call –  07915 397 703 (+44 abroad)
– Email – ben@benwilsonuk.com
Social Media – Benwilsonuk
You Tube>>   Facebook>>   Instagram>>   Twitter>>  Tik Tok>>    LinkedIn>>