-EVERYTHING YOU NEED TO CHANGE YOUR BODY REGARDLESS OF PREVIOUS STRUGGLES OR DIFFICULTIES AND TAILORED TO YOUR OWN INDIVIDUAL SITUATION.
-DEVELOPED FROM 20 YEARS OF WORKING WITH CLIENTS, INVOLVING THOUSANDS OF COACHING HOURS & HUNDREDS OF TRANSFORMATIONS.

-NO BANNED FOODS, NO GRUELING OR BORING EXERCISES, NO SUFFERING – JUST AN INTELLIGENT APPROACH TO GET RESULTS IN THE EASIEST WAY POSSIBLE.
-BASED ON MY BOOK – THE GRAND UNIFIED THEORY OF WEIGHT LOSS
*************
-THIS PROGRAMME CAN BE DONE VIA 1:1 ONLINE COACHING WITH 24/7 SUPPORT OR SELF-LED WITH PROGRESS CHECK IN'S.
– INCLUDES AN EXTENSIVE EXERCISE LIBRARY WITH FOLLOW ALONG HOME WORKOUTS.
-THERE ARE 11 FOCUS AREAS, DONE AT YOUR OWN PACE & TAILORED TO YOUR NEEDS. MOST PEOPLE CAN ACHIEVE THEIR GOALS WITHOUT NEEDING TO DO ALL OF THE PHASES
(Google Advertising Disclaimer – There is no guarantee of specific results and individual results may vary).
ABOUT ME – BEN WILSON
After 20 years of training people I have an ability to help you even if all other attempts have failed previously. This is due to my unique exeprience gained from the clients I have worked with, the courses I have studied and my the personal experiences on my own journey. This includes:
-CLIENTS – I first started working with stroke and cardiac rehabilitation patients before going on to work with hundreds of different situations, goals and life situatuions. This included  aspiring professional athletes in rugby as well as post-natal mothers and 85 years old+ great grand parents. I also have a lot of experience in dealing with clients who have mental health problems or issues with addiction.
-STUDY – For 20 years I have been continually studying one of four main areas, either exercise performance, nutrition, injury rehab or psychology and motivation. This lead me to become a certified conditioning coach for athletes and a exercise rehabilitation coach. I studied clinical nutrition and then became the first personal trainer in the UK to incorporate Emotional Freedom Technique into my sessions. My study of the psychological side of fitness was shown in my books; "Change Your Thinking, Change Your Shape" and "The Grand Unified Theory of Weight Loss".
-PERSONAL EXPERIENCE – My greatest learning has come from my own personal journey. Through changing my nutrition I got rid of my Asthma which I suffered from for 20 years. I learnt a lot about sports training from playing rugby and competing Athletics (400m). I also performed in Samba for 5 years which taught me how to develop a new skill. For the last few years I have been competing in bodybuilding. I have done 5 shows which has involved losing / gaining 65kg in total during the prep and bulking phases. This has taught me so much about the practical implementation of losing fat and gaining muscle. I have also done every food experiment going, from 5 day water fasts to Ramadan and Keto to Veganism. This has given me a varied and non dogmatic approach to nutrition. I have also lived in Australia and Brazil as well as visiting 50+ countries which  has also expanded my approach and understanding of different cultures.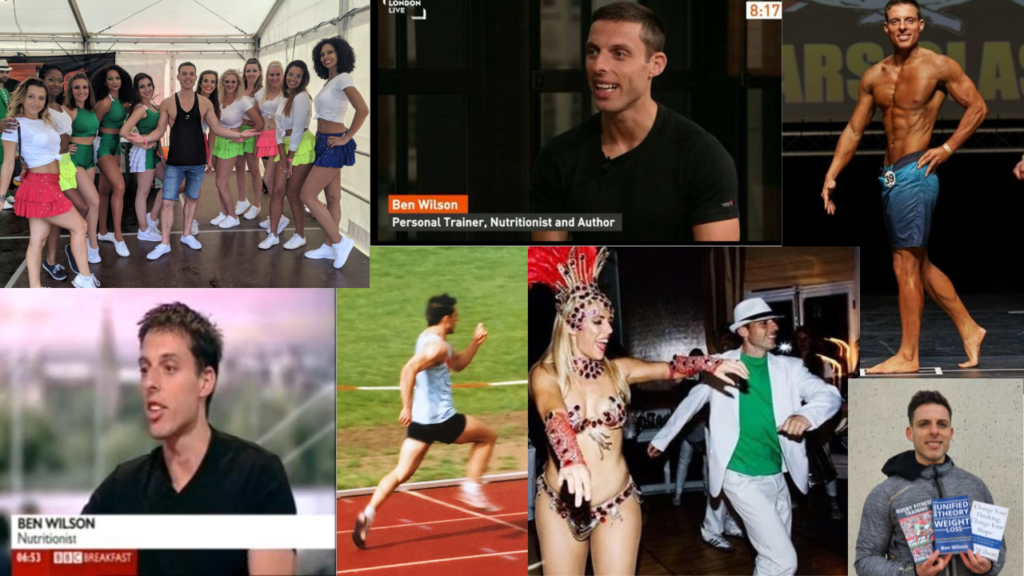 BODY TRANSFORMATION ZERO – HOW DOES IT WORK?
– After signing up you will be sent the link to begin the first phase.
– Each phase has a series of tasks to complete, some may take 5 minutes to do while others a week of changing a specific small behaviour.
– At your own pace you will work through the tasks in the first phase. There are videos and documentation (where needed) to ensure you are clear about what you need to be doing.
– When you have completed the phase you fill in the end of phase check in form and move onto the next stage.
********ON-GOING******
-Once you are up and running you will send a check in form to report your progress.
-I am available 24/7 through whatsapp if any problems.
-There are daily motivational videos to watch to focus your mind as well.
-You will have access to the member's area with 30+ exercise videos to follow along with at home.
-Everything is clearly set out and easy to follow.
********FINISHING******
-Once you have achieved your goal or you feel you have gained enough from the process already you can simply stop at any time.
-There is no minimum commitment or contract. Cancel whenever you want simply by stopping the payments your end.
-Some people look to do a mixture of the programme with my performance coaching for extra support then self-led with phase check-in;s thereafter.
******With Performance Coaching*******
– If you are going through Body Transformation Zero while a member of my performance coaching programme then we will be in contact regularly throughout each task to ensure accountability and efficiency with your efforts.
– Body Transformation Zero whether Self-led or under my wing as part of my coaching both offer the same programme, it is just about the level of support desired.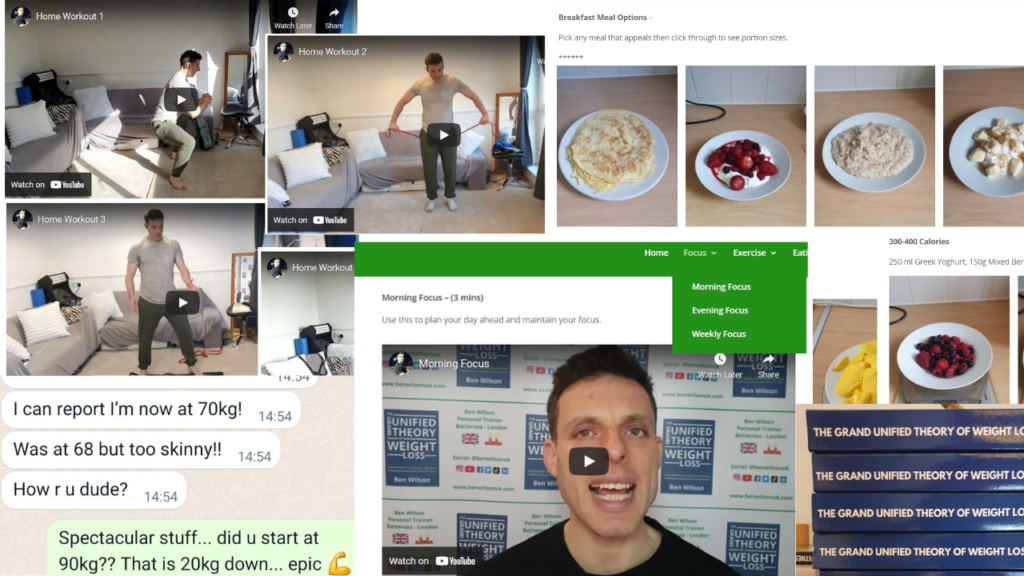 CLIENT STORIES
I have helped so many people since starting in this profession in 2002, one of my only regrets is that I was poor in keeping track of and getting more photo's etc from the transformations. Albeit, I also understand most people do not want their picture on my website. My google page has loads of 5 star reviews and many client stories can be found here also. Some of my online Successes this last year include –
Nick – After almost giving up hope on losing weight and having not made much progress at all on his own he joined my online coaching in February. Under my guidance he not only changed his trajectory with his weight he also redesigned his relationship with food and exercise. He has lost over 22kg and still progressing.
Hads – She was a major Yo-Yo dieter, regaining and losing over 100 kg in 10 years. After meeting her in person for a couple of sessions she continued with me online as did not live in London. She had a spectacular transformation, going from 110 kg to low 70's, losing over 35 kg in the process. Equally impressive is that she has maintained this fat loss now for over 3 years +
Dave – He joined me online as a more affordable and logistical option to help him work on developing his fitness and improve his mental health & addictions. He made a major transformation both physically and mentally. His doctor was able to take him off his medication due to the improvements he had made. I also supported him in becoming a Personal Trainer himself.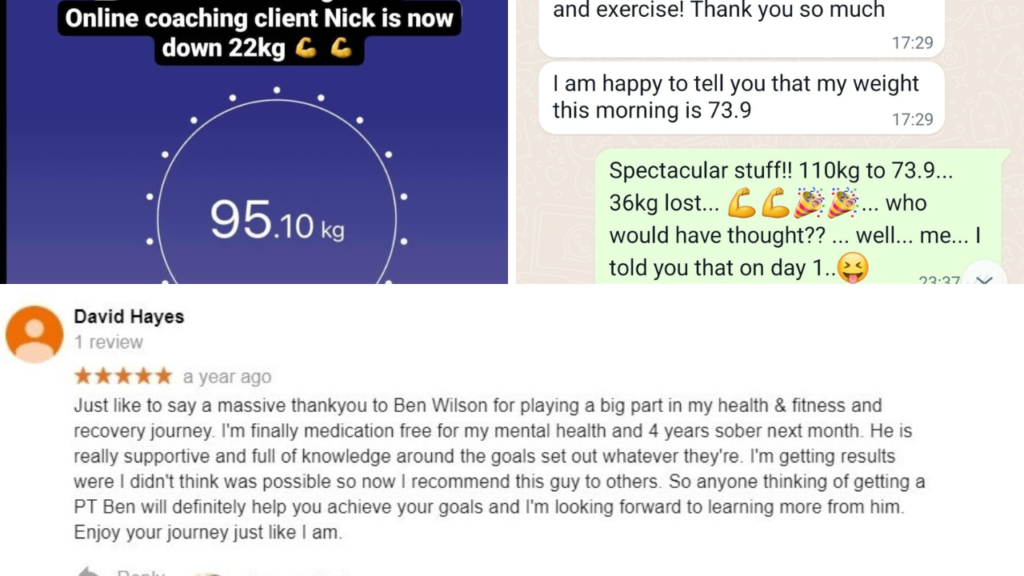 ****************
-JOIN A MOVEMENT OF DREAM CHASERS LOOKING TO TAKE CONTROL OF THEIR HEALTH & FITNESS.
TO GET STARTED TODAY Simply Sign Up HERE>>>
*************
FREQUENTLY ASKED QUESTIONS 
– WHY BODY TRANSFORMATION ZERO?
It is called Zero because you need Zero experience, Zero prior success and there are Zero pre-requisites you must stick to or need to enter the programme. It is a process where I can help any one get to any goal regardless of their background. This plan is ideal for you if you are not making much progress towards your goal or feel it is too big of a challenge. 
– WHAT IS THE GRAND UNIFIED THEORY OF WEIGHT LOSS?
It is a framework / conceptual model of weight loss that encompasses the many influences that affect why one person can / cannot lose weight and create the body they want. It was covered in my book about it.
These factors include motivation, reaction to stress, influence of other people, your environment as well as your knowledge and the plan of action you use to change your body. My book has been well received, however, one criticism is that it was quite complicated to put into action. This is because the book covers every factor that could affect someone trying to get in shape while in the real world only a few of these factors will apply to you.
My personal training, performance coaching and Body Transformation Zero plan all incorporate these principles and present you with a simplified and easy to put in place approach to get results using the in-depth content of my book. 
– HOW DOES THE PROGRAMME WORK?
There are 11 phases to work through within the programme. Each phase has a series of tasks to complete befoe eyou can move on to the next one. These are done at your own pace, some tasks take five minutes to do while other may involve making a small behaviour change for a week. Upon completing all the tasks you will then progress to the next phase. Aftere each phase you will complete the a check in progress update for me to see how you went. Everything is explained by videos and documentation (where needed) so anyone can easily follow along. I am always there to answer problems if struggling as well. The phases are also backed up by the extensive member;s area with over 30+ follow along home workouts available and daily motivational videos.
– WHAT IS THE DIFFERENCE BETWEEN SELF-LED & PERFORMANCE COACHING FOR THIS PROGRAMME?
Both approaches take you through this revolutionary programme. The only difference is the amount of support received, the self-led method you will send phase check-in forms, have access to the member's area and I am available if you have any problems.
The performance coaching approach we will be in contact throughout each task and also have weekly progress report check-ins. The main difference is simply the amount of contact and accountability you are looking for. Some people do a mixture of self-led with some extra support at the beginning or during difficult periods. 
It is very common for my Perfomance Coaching clients to not go through the full Body Transformation ZERO programme (unless they want to) and instead we extract the key elements needed based on your goals, needs and aims. This accelerates the overall process.
– WHAT EQUIPMENT IS NEEDED?
Not much, just an exercise band to follow along with the home exercise videos. Otherwise, everything is based on bodyweight and all other non exercise tasks do not require anything. 
– WHAT EXERCISES WILL I HAVE TO DO?
There are no exercises you HAVE to do. The exercise library has 30+ follow along workouts for resistance training, muscle development, flexibility as well H.I.I,T and aerobic training. My goal is to help you to change your body both in appearance but also physical capability so you are thriving in life and actually enjoy exercising by the end of the process.
– HOW LONG DOES THE PROGRAMME LAST?
There is no set time period for how long the process takes. There are 11 phases in the whole programme but most people can achieve their goals without needing to do all 11 phases. My goal is to get you to your goal as fast as possible, with a focus on long term success over short term sacrifices. As there are also financial implications to consider too there is no one right way to do this, or minimum time you must commit to. I also have the Good Karma programme for those who need support financially. 
– HOW MUCH DOES IT COST?
This is explained during on the sign-up process. The 'Good Karma scheme' I have in place means their are opportunities for people who have difficulties financially. This means the cost of the course ranges from £0 to full price. There are limited numbers of places for the different Karma allocations and you can join the waiting list if currently full. 
– HOW DO YOU CANCEL?
Simply stop your payment. There is no minimum duration or commitment. On finishing I will give you access to a couple of helpful tools to ensure you easily sustain the results you have achieved.